DOUBLEGOLD CONTESTS
the SERIOUS SAM SERIOUS CONTEST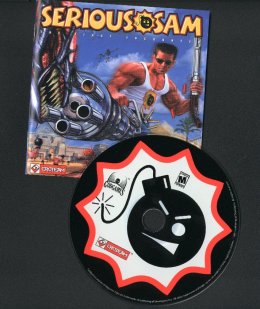 Having reviewed Serious Sam a few weeks ago, we came to one conclusion... we're giving the game away. Well okay, we're giving a NEW copy of the game away. That's right, if you haven't experienced what it is to get Serious, then now is your chance!
Entering is seriously easy... but we're gonna make you work for it. Yeah, there's no free ride baby. First, you'll have to spend some time on our site...hahah, yer screwed now, then simply send us an email that contains the following info:
1. Your email address.
2. Your real name.
3. Your favourite section of the site (ie the News post, the Flash Page, Friendly Fire, Interviews etc).
Winners are going to be chosen at random, but only contest entries with all three qualifiers will be entered into the draw.
Email your entry to contest@tendodojo.com
Contest closes Tuesday, June 26th at midnight (PST). This contest is open only to residents of North America, as we just can't insure and post overseas cheap enough. Sorry!
The winner will be announced June 27th and be emailed so that we can get their address. Thank-you in advance for taking part in this contest and helping us out with our site!
---
Past Contests: