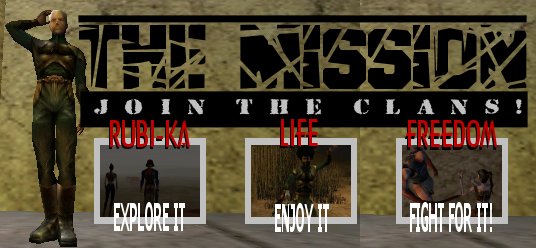 Clanhood (Soon to contain info on MISSION)
What responsibilities do the clans hold in the complex power struggle on Rubi-Ka?
The Clans are the planet's rebels, opposed to the Omni-TekŪ rule. The leaders of the most important clans sit in the Council of Truth. It organizes the fight against Omni-TekŪ and allots clan charters to the organizations that want to pool their resources in the fight for freedom. A clan charter gives the members a Clan House, a system for electing leaders, special advantages like a clan insignia or even in-game special abilities.
Not every clan fights with arms. Some choose to use political means or a combination of force and politics. There are some people in the clans who wish to find a solution based on cooperation. Other clan members would never even talk to an Omni-TekŪ employee. This is the big "disadvantage" the clans have compared to Omni-Tek: they are divided on a wide selection of important issues. However, the Council of Truth feels that this disagreement is the only way to show how the rebels are different from the big mega-corporations they oppose.
Sentinels
The Sentinel Clan members don't hesitate to use violence in their struggle for a free planet. Their headquarters, in the village Sparta, doubles as a military camp where clanspeople get basic training. "The Sentinels did it" is a common excuse used in Omni-TekŪ, whenever something blows up or goes wrong in a mine.
New Dawn
A clan that tries a non-violent way of reaching their goal: to create a more open frontier planet, where all the inhabitants can live in peace. They have a Clan House in Omni-1 and are in secret negotiations with Omni-TekŪ - while at the same time, there are rumors about a link to The Sentinels.
The Knights
Living by the old chivalry code of the early Middle Ages, The Knights Clan is a high-profile participant in the fight for freedom. Some people see them as ludicrous - others find the Knights very courageous and idealistic. Many of the new rebels rally around this slightly anachronistic clan.