//:MISSIONNET
MEMBERS
hosted by DOUBLEGOLD
| | |
| --- | --- |
| | GAMES |

REVIEWS

PREVIEWS

ASHERON'S CALL - THE DRUNKEN MONKS

FIREARMS [E&C]
| | |
| --- | --- |
| | FEATURES |

COLUMNS

DG RUMBLE

DG: THE COMIC

FUNNY, FUNNY SH-T

the HOT & COLD LIST!

INTERVIEWS

STRYKER'S F-CKING STUPID ASSED FLASH MOVIES LINK PAGE

REI SPACE

TOP FIVE GAMES
| | |
| --- | --- |
| | ESCAPE DG!! |

DG LINKTOBERFEST

WEB COMIC LINKS
| | |
| --- | --- |
| | TOP SITES |



| | |
| --- | --- |
| | THE USUAL SUSPECTS |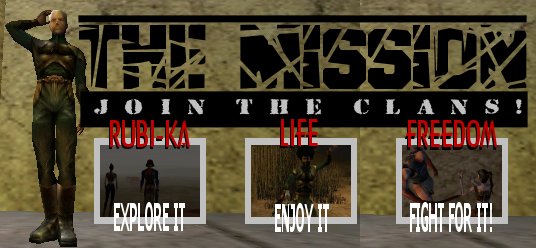 While many men and women fight for the cause of the Clans everyday, a select few have made it their goal to keep the clan guilds in a well informed and united state. Members of the Mission have a clear focus... only together as a well organized, well maintained unit can the clans overcome Omni-Tek. To achieve this goal, Mission members maintain a respectful contact with other guilds, pursue spy and raid missions on bordering Omni outposts and try and keep Mission NET as a highly up-to-date source of information between all members of the clans. There are no rituals to join the Mission, just a desire to fight... and be free.
To Join the Mission, click here for information
NAME
PICTURE
STATUS
CLASS
BASE OF OPERATIONS
Major "Steampowered"
Browman
click here for full bio
Temporary Head of Mission Operations
Soldier
Athens
Dr. Dural
click here for full bio
n/a
Head of Mission Medical Operations
Doctor
Athens