Well... E3 has come and gone, and in the tradition of bunk websites across cyberspace, Doublegold presents it's first annual I NEVER WENT TO E3 BUT HERE ARE OUR F-CKING AWARDS ANYWAYS Awards. These are selected by me based on what I like and are generally biased and have no journalistic bearing whatsoever. Strykers not here to help pick, and he didn't pay jack sh-t attention to E3 anyways except to whine about Black and White and talk gibberish about some mystery patch, so he gets no say in how these awards go. Anyways, without further whatever, here are your 2001 I NEVER WENT TO E3 BUT HERE ARE OUR F-CKING AWARDS ANYWAYS Awards:

BEST FPS OF SHOW: Tom Clancy's Ghost Recon (Red Storm)

Yeah you thought I was gonna say Planetside or Unreal2 huh? Well NO WAY MISTER!! While those games are gonna be neat, they're just eye candy with the same old gameplay. Ghost Recon is going to be a noticeable upgrade to Rogue Spear with cool team play and interesting mission. RUNNER UP: Jedi Knight II

BEST RPG OF SHOW: Neverwinter Nights (Bioware)

Oh yeah, Star Wars Galaxies looks nice, but with the Verant factor, I am and will remain hesitant utill I am in beta. If it flies, NWN will be a ground breaking game and NO EQ rehash can top that. RUNNER UP: Star Wars Galaxies

BEST SEQUEL OF SHOW: Star Wars Jedi Outcast: Jedi Knight 2 (Lucasarts / Raven)

Yeah baby, Raven was in full effect at E3 and this is gonna be one helluva game. Jedi Knight was and still is one of the best games ever made. I can tell JK2 will be a winner as well. RUNNER UP: Civilizaton III

BEST SPORTS GAME OF SHOW: NHL 2002 (EA Sports)

Like there was any doubt! NHL 2002 0wnz j00!! RUNNER UP: NHL 2002

BEST HOCKEY SIM OF SHOW: NHL 2002 (EA Sports)

This is the greatest game series in PC history. "Osgood stones him!!" RUNNER UP: Like I have to type here.

BEST GAME NOT COMING OUT: Duke Nukem Forever (3D Realms)

They showed a movie this year. They showed a movie last year. Another one before that. If Duke Nukem Forever EVER comes out, I will buy TWO copies and give one away on this site, I swear it. It ain't happening. RUNNER UP: Lets just say Teamfortess 2, even though they never showed it.

BEST GAME USING A SLUTTY CHICK IN A SCREENSHOT: Unreal2 (Epic)

We already have this screenshot on the News post, but hell here it is again.

RUNNER UP: Everquest booth 'ho. (Not a Screenshot per se, but what the hell...)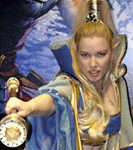 COMPANY THAT OWNED E3: Lucasarts
This was tough, but goddamn Lucas game in fast and they came in hard. Star Wars Galaxies, Jedi Knight 2, Galactic Battlegrounds, Knights of the Old Republic... Lucas is set to make f-ckloads of money in the next two years thanks to these games. Signing Bioware and Raven to deals to develop further shows that Our Man in Flannel is looking to have his gaming division rebuild after two years of ass games. RUNNER UP: Bioware
BEST GAME OF E3: NHL 2002!!
no just kidding...
BEST GAME OF E3: Neverwinter Nights (Bioware)
This was close... but NWN as I said before is just going to be revolutionary. Plus my god, look at this f-cking screenshot. LOOK!!!!

Graphics this good, a fully customizable character, a world design toolset, ability to set up your own perpetual gaming world... my God, how can you not be into this!? Plus it's Bioware and Bioware NEVER lets you down my friend. Black Isle/Bioware has yet to make a game I have not utterly loved. Fallout 2 remains one of the best games I have ever played, and lets not get started on Baldurs Gate 2. I had that game in my pants for christ sakes. I stand by my prediction that NWN wil be one of the biggest games ever. Mark my words. RUNNER UP: Star Wars: Knights of the Old Republic
Other news...
I missed RAW is WAR today. Its not anyones fault mind you, just a miscommunication. Me and Stryker get together at Doc Chaser's house every Monday for our WWF fix, but something went wrong and he was 15 minutes late getting home.. so we missed it. It looked like a good one too, with Chris Jericho and Chris Benoit defeating Steve Austin and Triple H for the tag team titles. Of course next week I'll be watching RAW Live in Calgary hehe, so I'll be seeing it all and it will be, in a word, awesome. I hear the WWF puts on a great show.
Now everyone knows my favourite WWF site is Rajahwwf.com. Well disturbing news from Raj.. the WWF has come after him for his domain name, claiming he has no right to using the WWF brand name. As much as I love the WWF, this is corporate bullsh-t and I don't see what the WWFE has to gain by it? Raj has one of the biggest WWF fansites on the frickin web and shutting down the domain will only cast a huge negative light on the WWF. As Raj said though, he is working on a peaceful solution. I hope this works out, and we'll keep you posted. Raj has set up a mailing list to inform readers as to any changes in Rajahwwf.com status, which is a smart idea. Anyways, to read exactly what Raj had to say and to sign up for the mailing list, go here. (fenris)
-New Reviews
-New Firearms [E&C] Updates
-New Movies Updates