DOUBLEGOLD vs. MAGGIE THE JACKCAT
...the First Lady of Asheron's Call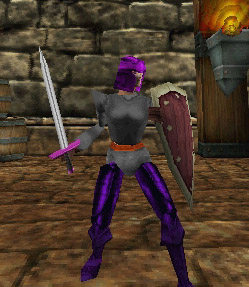 Maggie was one of the first people we wanted to interview for the site, based on her zeal for the game and her professional touch. Maggie took time out of her busy schedule (real life + website + AC + job = one busy lady!) to answer some of our questions relating to her life, her interests and of course, a good dose of Asheron's Call. Lets take a look at our interview with Maggie the Jackcat...
---
DOUBLEGOLD : Was AC your first experience with an online MMORPG? If not, tell us about your previous experience.
MAGGIE THE JACKCAT: No. My first online MMORPG was Ultima Online. I used to play Backgammon and Chess on the Zone way back when with a friend of mine. He told me about this cool new online game and we both signed up. I played for about a year and a half before leaving. Although there were a lot of things I liked about the game, it eventually stopped being fun for me. It was just a little too much like work sometimes! The skill decay was a drag for a casual player and the PK situation at the time was pretty bad.
>>>>>>>>>>>>>>>>>>>>>>>>>>>>>>>
This is just a preview of the interview meant to show you a sample of the layout for the page. Most of these links WILL NOT work. You can read this interview in full, plus see the new site with new, working content this Monday.