PUBLISHER / DEVELOPER: GOD Games / Croteam
YEAR: 2001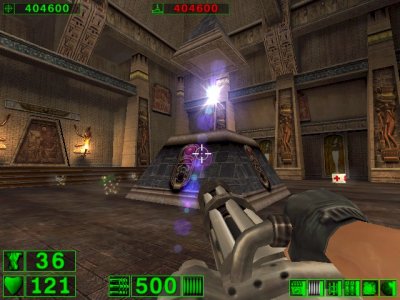 You are Sam. Serious Sam. The story here is thin.. it moves the game along, but it's your typical "Oops, we f-cked up and summoned the hordes of Hell to Earth" genre of a shooter, so you shouldn't be expecting something along the lines of Deus Ex or even Half Life. Essentially its aliens coming to take over the Earth, or take back the Earth, or kill the Earth or kidnap Anna Kournikova... really, that's not why you play this game. What you should expect though is one of the best action first person shooters ever put out. That's right, ever. This game is a screaming adrenaline rush from start to finish, easing you slowly into the action before dropping you on your ass in the middle of one of the most heart pounding blood baths put to code. The game reeks of classic shooter flair, showing Croteams obvious love of the genre and paying homage to the greats Doom, Castle Wolfenstein 3D and obviously with a healthy dose of Duke Nukem.
The game is full of highlights. While the commentary doesn't leave you in stitches, there are certain ones that you just have to laugh at. Early in the game Sam runs into a lone headless suicide bomber. The bomber runs down the hill screaming, "AUHHHH!!" until of course you pump him full of buckshot. "AUHHH yourself!" Sam will smugly remark only to spot a virtual horde of the SOB's charging over the hill at him. "Uh oh..." Sam follows up with seeing the new threat.
And oh how Croteam will horde your ass! There will be points in the game where you will go, "Holy sh-t" or even, "You have GOT to be kidding me!!" So many times during the game I was running around, screaming out loud going, "What's with all the bulls?!" or "RUN RUN!!" The game is a blast in the fact that its pure frenetic killing action from start to finish. I don't want story. I want the pure satisfaction I can only get from blasting a demon skeleton into bone fragments at point blank range with my double barrel shotgun. This game asks you what you want from a Shooter and then delivers it tenfold. Swarms of baddies? Check. Huge, awesome levels? Check. Giant... GIANT freakin' bosses? Check (the end boss is stupidly huge and so well animated I nearly peed in my seat.)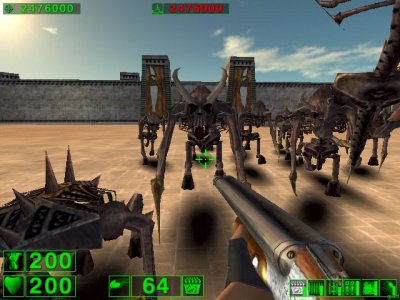 Serious Sam plays like most any other FPS. Set your controls, screenshots, demo recording, numerous rendering and audio adjustments etc etc. The play in game is simple and smooth, from switching weapons to accessing your NETRISCA which is essentially an information computer built into your head that tells you important clues, gives specs on new weapons and updates you on levels and monsters. The crosshair is nice, essentially telling you how hurt your target is by the colour displayed. The "feel" of the game is just right too. It doesn't jump or choke, it's smooth even on substandard machines (like my AMD 400). At no time did I feel that my system was hurting my ability to play, so I was able to sit back and just enjoy the raw fun of the game.

First off is the visual... my god does Croteam deliver here and this is a testament to their skill. This is not a money issue or a big company dev team thing... this is a small, nigh unheard of European software team coming up with what will soon be known as one of the most workable and attractive graphics engines available. The Serious engine allows for multiple gravities, stunning light settings, HUGE maps and awesome models. And even beyond the great engine, props has to go to the art team for their design and skins, especially on the textures for the Egyptian building which impress in stature as well as with the amazing art covering them. John Romero take note... aspiration is one thing, execution is another.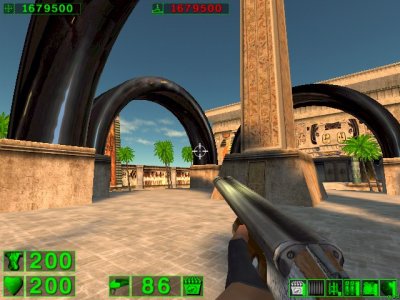 Audio can be considered on of Sam's weaknesses, though I certainly wouldn't call it weak. It's just that, much like the story for the game, the audio merely moves the game along. Roaring monsters, stock gun sounds, bizarre clicking and beeping... this isn't System Shock 2 by any stretch of the imagination, but it does the job. Particularly nice is the minigun sound which is probably one of the best I have heard in any game, but in general the audio is lacking. This fact never takes away from the game though, and I'm sure with the customization that this game has, new and more impressive sound packs will soon be available online. On the flip side though, while not mind blowingly awesome, the soundtrack is pretty cool and definitely worth leaving on during gameplay.

Its the additionals that are really going to make Sam a hit. The general buzz is that the Map and Model editors that come with the game are proving the Serious engine to be one of the best and most user friendly engines around. Within the games first few months of release numerous mods, maps and models have already sprung up with many many more to come. Croteam is one of the first developers to cater to the potential mod/map maker in all of us, and this intelligent thinking all but guarantees the games longevity through a healthy and happy community. Already considered superior to the Half-life engine in many ways, Sam may be the basis for the next generation of Counter-Strike and Firearms type mods in the coming year or so. Stay tuned.
The other great addition to Sam is the diverse multiplayer mode, including online Scorematch, Fragmatch and my personal favorite, Cooperative mode! Once thought to have gone the way of the dodo, Croteam once again comes up big for us with the Coop mode. Not only can you play online or on a LAN in Coop mode, you can play up to four players on one PC via a split screen mode! Crazy! I had a chance to play a little online coop, and oh lordy it takes me back to the days of Quake... it was a damn hoot and easily one of the best features of the game. I hope this is a sign of things to come for future games... attention game developers, players like Coop mode for their games!!

Serious Sam delivers tons of action at a very impressive low, low cost. I got mine for 30 bucks Canadian, so there is no real reason even the casual shooter player shouldn't pick this game up. Sam takes you back to the glory days of first person shooter and gives a brand new face. I played the game start to finish and while there were many times when my mind told me "This is just insane", I never once thought of stopping. The story is weak... the story is... who cares, this game isn't about story. The audio is bland... who cares, the graphics and map size rival that of Tribes 2. And NO OTHER game matches up to Sam in the map/model maker friendliness department. Community marks a games success, and it looks like Sam has a bright future ahead of him.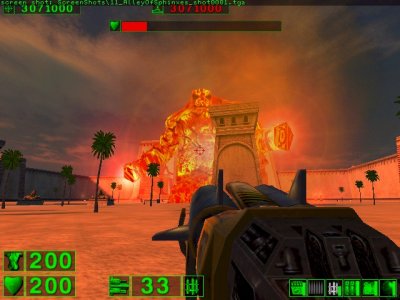 Get a 6 pack of cola. Order a pizza. Call up your buddies and set up the lan. It's time for some Serious Action with Serious Sam. Fire that baby up, sit back and take it all in. You're not going anywhere for awhile. There's evil afoot, and its time to put a foot up its ass. Shotguns. Rocket launchers. Cannons. Its all here, its the total package and Croteam delivers that package to you, steaming hot, and right to your door with time to spare. Yeah sure its not an epic. Its not a 200 hour game like Baldurs Gate 2. Its not deep like Deus Ex. What is IS though is the best all round first person shooter to come around since Duke Nukem. This is a blood pumping frag fest where you will get hammered hard. You will get slapped around like a red headed step child. You will get beaten worse than the Cincinnati Bengals. And you will love it. And you will keep coming back for more. Break open your piggy bank, scrape up 20-30 bones and do yourself a favour... buy Serious Sam. The end boss alone is worth the price of admission. BANG! Serious Sam kicks it up a notch.
Seriously.
I give Serious Sam 9 out of 10 Ted McGinley heads, losing one head only for its trivial story and the game's *blah* sound effects.









(fenris)
*Stryker notes
Not having played Serious Sam, I will not give it a rating, but I will agree with the 9 McGinley heads that Fenris game it. I was here doing some computer stuff (nothing really) while Fenris was playing, and the constant yelling (mainly 'Sh*t he's big' or 'Jesus Christ' or 'Yeeeaaa Haaawwwww') I can assure you that his enthusiasm for the game was well above the normal standard that he expresses. The one thing that I didn't like about the game was the weapons. Sure they were cool, and there were all the classic ones (and I do mean classic), along with some new friends. But I like weapons that have 2 functions. A primary and a secondary attack. Hey that's just me, maybe I played too much Star Wars: Dark Forces and got used to secondary weapon functions. Heck Firearms has them also! Other than that, this game looks very impressive, and I will be purchasing it, as soon as we get it in this dead end town that we live in.
SERIOUS SAM LINKS