Lets get right to it shall we?
Egg on Verant's face... Verant Bans Eggs
First off, in light of what I am about to show you people, I will acknowledge the fact that yes 1) Screenshots can be faked and 2) Text logs are easy to modify. But in following the recent news, from what I can tell of the whole Lanys fiasco, Verant got caught with another broken script in one of their high profile zones and took drastic actions to save face. Too sum things up, I will refer to Tyrithin's post on Lum the Mad's news forums:
"1. Conquest creates a mini-movie on their site, quite cleverly, about killing the Sleeper. It's stated on the site that this isn't real.

2. Jeff Butler comes across this, and realizes CQ has the intent of waking this mob up.

3. Butler, knowing damned well that the script isn't finished, immediately talks to the GM's on Lanys, asking them to keep an eye on CQ.

4. CQ beats the first three Warders on Saturday. They break.

5. Tuesday CQ begins their assault on the fourth Warder.

6. The GM's and guides get word to Butler that CQ is fighting the fourth Warder. Butler, who thought he was in the clear when they stopped Saturday, logs onto Lanys to watch, take notes, and figure out how to stop CQ from beating the Warder and starting the incomplete script.

7. Somehow, the broken quest starts, the Sleeper wakes up, and kills the fourth Warder. It then starts killing off all of the players that were present. It's also been speculated that the GM's started the script themselves to kill off the Warder. I find this unlikely, since the GM's could have /killed the mob themselves.

8. Screenshots are taken of the Sleeper. He is NOT complete, as he is shown as the base model, a "naked" male human.

9. Butler instructs the GM's present (Both Valademar and Frizznik, according to the logs, were present) to /kill the Sleeper and start moving CQ out of the zone.

10. The GM shouts across zone that everyone present is being warned for exploitation.

11. CQ is taken to the Arena. They are kept there for quite a while. During this time, Val is consulting with Butler on what to do. Butler decides the best course of action is to suspend/ban the players involved, and to disband the guild. This, he hopes, will remove the players' credibility and take away some of their ability to communicate.

12. Well, you can pick it up from here. It's incredibly apparent that this all began when Verant realized that CQ was close to starting a sequence they had yet to complete. One that they had CLAIMED was complete. Everyone present saw the human model. It was not, as Verant claimed, on the part of just the SS taker. This lie alone is damning enough. "
Now you see why I refer to the entire event as a"conspiracy" and good lord, even from a completely neutral standpoint, Verant has buried themselves with this. Yes, Conquest was using cheese methods to kill the Warders, and yes they were using spells in a non standard way. So what? The BIG deal here was that the Sleeper script was incomplete and Verant was not going to stand by and let this guild expose that while not fighting in the Come-Kill-Me™ style of Verant preferred gaming. I mean Christ, Jeff Butler is the producer of the game... if this was just a simple exploit, leave it to the GMs and let them ban whoever necessary. No, this was, in essence, a public execution of Conquest to make an example out of them: You play Verant's way, or you don't play at all!
In Brad McQuaid's post a few days back he stated that the Sleeper script worked and that the human figure depicted in the screenshots on Conquest's site...
"...are a result of the screenshot taker not patching"
This is utter tripe if you view this screenshot taken from the Conquest site depicting the placeholder model AND the sleeper model in the same picture. This clearly shows that Kerafym (the Sleeper) was awakened before the script triggered him... triggered by Verant to kill Conquest. They spawned their uber monster to kill Conquest, even though the GMs could have killed them at any time. And much to their embarrassment, they essentially flaunted the broken script by showing the Sleeper with no working model... thus the placeholder.
Another interesting twist in this story is the copy of the chat log recorded by Conquest member Camdar which you can read here. I remind you these logs are easily doctored, but the length and overwhelming evidence against Verant would claim otherwise.
I checked several EQ sites today in search of follow-ups to this story and generally found nothing. Much to Verant's bemusement, this is basically fading away. Perhaps their operation was a success. CQ has been put down, and put down hard. But that was two days ago and 300,000 EQ players go about their gaming without really paying attention to what happened on Lanys Monday night. But for 30 or so specific players from Conquest, the game will never be the same again. The guild is brushed aside and the great Verant machine rumbles on. MMORPG's lost their innocence a long time ago thanks to Verant. This time they lost their soul. (fenris)
Black & White Patch and the Sequel to our first Review
Well, the unsupported patch for Lionhead's Black and White is now available, which you can download from these links:
If you like, you can also download the uninstaller from FilePlanet at this link.
In light of the new patch, Stryker has revamped his original Black and White review which you can read here. Happy gaming people, I'm glad I wont have to hear about this patch anymore!
Penny Arcade... Oh my God I touched him!
I recently sent an email to Penny Arcade's Tycho, and just received the response a few hours ago. restraining myself from being a total f-cking fanboy and just posting the email here, I can tell you my two main questions were regarding why people enjoy PA so much and what they attest their popularity to. Tycho basically said people enjoy PA because the creators themselves have a great time making the comic and feel that that emotion comes across on the site (I agree). To the popularity of the site, Tycho merely answered "People just seem to like it, and I couldn't tell you why. Maybe they won't next week."
I doubt it.
You can read Penny Arcade done by Tycho and Gabe, here.
AO Beta Patch
The Anarchy Online US live server was down today as the team made the change from v11.0 to v11.1. Changes to the game are as follows...
Changes from 11.0 to 11.1:
==================

System, Stability and Server Fixes
- Fixed so that mission items in the character inventory got cleaned up properly if your mission timed out when you where off-line.
o This used to cause some missions to look solvable on the client, when in fact they were impossible to complete.
- Made sure cell scanners worked correctly once more.
o Removed the teleports on scan.
o Made sure you were actually saved.
- Fixed several crash bugs relating to missions.
- Made the bug-tool work better in release.
- Changed some cloud code to make switching playfields safer :p
- Added some fixes to monster-spawning code in underground areas. The creation of monsters outside the PF makes the server crash.
- Fixed an exploit where you could make some items sell for negative amount of money, and made the cost wrap - > making you extremely rich.
- New Chat channels added. There are now side-specific chat channels for all side, including channels for teaming up and sales.

GUI, Client and Graphics
- Fixed those sticky walls in the dungeons!
- Removed sliding characters after they were frozen by nanoprograms.
- Info-objects of some items were not displayed correctly in the info view. This has been fixed.
- Made sure the amount you got shown in the client was actually the amount the server thought it was giving you when you sold items with "charges" in the shops.
- Made sure remains of monsters didn't lie around if "closed" with "ESC"-key.
- Made sure client updated the Cash after you accessed the save-booth.
- Updated the indoor map, and made it slightly brighter.
- Made Implants be shown correctly on the client after logout or playfield shifts.

RPG, Nanoformulas and Balance.
- Fixed the saving of the character. It should now include the Nano Resist skill, so that you can finally start to resist those nasty Nano Formulas.
- Made startup maps add ALL correct playfields to the map memory of the user. To access it you have to make a new character, though, as those maps are for character without any prior map knowledge.
- Reduced the cash-cost of the map icons.
- Fixed wrong skill on the startup submachine gun the fixers get.
- Changed the trimmers to have skill requirements from the trade-skills.
- Nano formula changes:
o Meta Physicist damage debuffs have had their duration reduced.
o Fixer runspeed buffs now lower the damage output of the receiver. They are supposed to be travel nanos only...
o Healing over Time nanos now cost more nanopoints.
o Enforcer Challenger series now buff all damage types, not just melee.
o Meta-Physicist "Calling of..:" are not done yet, so they summon nothing.
- Weapons should now be "dropable" by monsters again.
- It should be easier to get weapons in shops and through missions. The armor and weapon shops have been changed to have "level ranges" just like the booths selling healing stuff.
- The skills holding your merit level are now communicated to your client so that you can wear your well earned merits throughout PF shifts.
- Non-sided humanoid monsters should now attack in mission areas. We are working on this balance right now, just so that you know.
- Made pills work slightly better, they should disappear on use now.
- We are working on making sure the missions work properly, but there are still some problems with the "get me item" and "bring NPC to location" missions.
- Weight on ammo and other stackable items reduced.
- Changed the Stun effect from the brawl attack. It has a higher chance of stunning now, but lasts shorter.
- Clan-side get mission tokens now.
- Changed the effect of Traps in mission areas. Note, you can discover these using the "question-mark" icon. (Or "Magnification" icon if it makes it into the patch...)
Yeah, I was actually thinking reducing the cash cost of map icons would improve gameplay greatly. Or maybe I'm not actually playing Beta yet and am just talking out of my ass. You decide.
Diablo2: Lord of Destruction Preview
Yes, I was in D2:LOD beta and got a good look at the expansion pack Blizzard is bringing out soon. You can read my preview here.
Random News...
-We have another interview in the works right now, with a member of the Firearms team. You can expect that... when I get it. Sooner than later. Maybe. Don't you love how we reassure you here!?
-I have a new Friendly Fire posted for today. You can read it by licking here... I mean clicking. Quit licking your screen. Unless you want to lick this....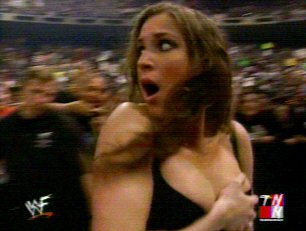 Mmmm, Stephanie...
-An update on the Kraft Dinner fiasco. No I didn't drink Strykers booze, though seeing the graveyard of Gibson's Whiskey in our cupboard makes me think that even if I wanted to, I don't think I could find any to drink. Further note... I will not compensate Stryker for the stolen Kraft Dinner unless he stops singing his godawful rendition of "Radar Love".
-WW2Online still sucks... stay tuned...
-Finally, entries into our Great AC Giveaway are trickling down, with a few days left before the deadline of Monday. If you have yet to enter, or have no idea what we're talking about, you still have time to click here.
-Christina Aquilera is still beating Godzilla in the Rumble. What the f-ck?
-I haven't had much time for games lately, though I do make time for NHL 2001. My Nashville Predators are 2 time defending Stanley Cup champions, have gone on an insane (for me) 23-0-2 tear and are heading into the playoffs red, red hot. My one problem though, is my penalty killing is dead freakin' last in the league. Why? Because I take so many penalties... I swear the ref is out to get me! I mean really, can you honestly consider this mild crosscheck on Georges Laraque by Jason Smith a penalty?!?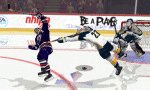 No, of course not! Its obvious that the pansy Laraque is faking it to get me a penalty! What the hell!? Oh well, we'll see you guys in the playoffs! Mwuhahhaha!!
-New Friendly Fire
-New Review
-New Preview